In todays blog post I'm going to share a cool strategy with you that will allow you to identify the best local keywords for your business, or a clients business.
Local keywords that get the most searches each month.
The Problem
When using keyword tools to get the search volume for 'local keywords' it's rare that a search volume is returned. A message such as "Not enough data" will be shown instead of an actual search volume.
This is because the search volume is below a certain 'threshold', even though the keyword might get some monthly searches.
With any industry keywords, there are usually a group of local keywords that prospects looking for a specific service will enter into Google.
Some examples may be:
electricians in middlesbrough
electricians middlesbrough
electrician companies middlesbrough
electrical companies middlesbrough
electricians middlesbrough cheap
electricians middlesbrough affordable
house rewire middlesbrough
best electricians middlesbrough
cheap electricians middlesbrough
qualified electricians middlesbrough
You get the idea?
If you try and get the search volume for these, tools may not be able to find enough data, leaving you in the dark and not knowing which of those keywords to focus on.
The Solution
Using the words 'near me' along with using Googles free service, 'Google Trends'.
Many people use the words 'near me' rather than their actual location. When this happens, Google simply looks at their geographical location and replaces 'near me' with their location (within their search algorithm).
However, as more people across the country use 'near me' there is plenty of data for almost every niche, industry and keyword to give you a clear indication of which keywords are best.
Google Trends provide you with a kind of 'pecking order' between the keywords.
First, let's take a look at what Google Trends displays when we use an actual geographical location.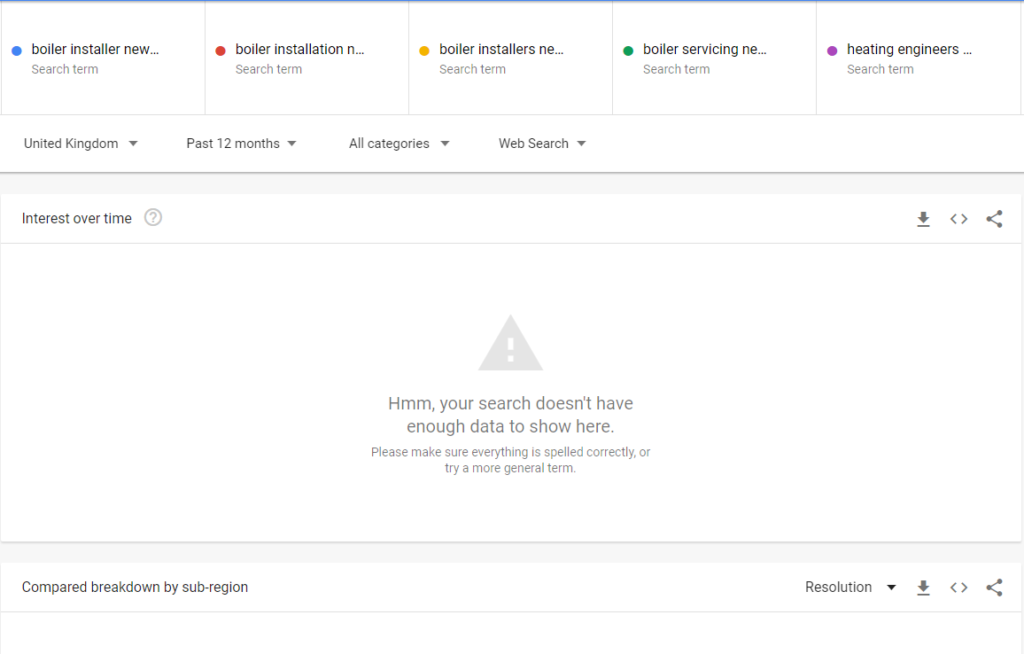 In the above example I entered 5 different local keywords, using the actual location name (Newcastle).
As you can see, no data is returned that will give us any kind of indication of which keywords get searched for the most out of those 5 keywords.
However, the screenshot below shows the same 5 keywords but this time the word 'newcastle' is replaced with 'near me'.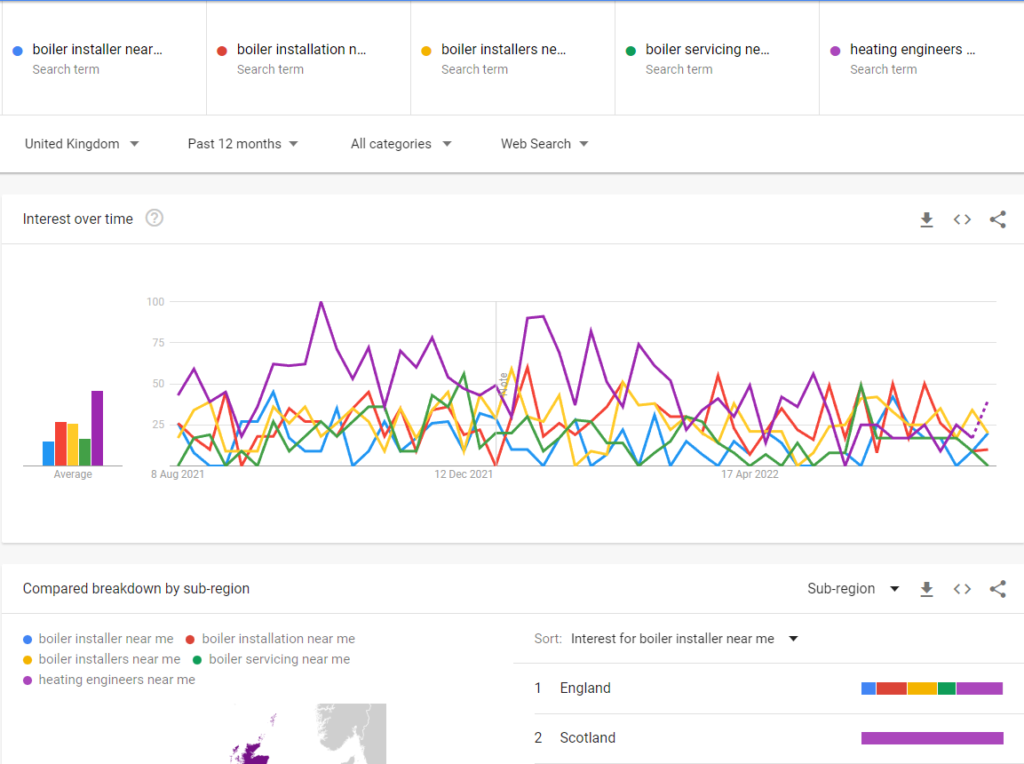 You can see that Google has now shared some useful data with us that shows us which keywords get the most searches. In this case – in the United Kingdom over the last 12 months. (We can of course change these settings if we want to expand on that data).
If you look at the colour coded 'bar chart' you'll be able to see how the keywords compare to each other in terms of 'number of searches'.
(Even though an actual search volume figure is not shown)
Using this method will help you to identify which of the local keywords to focus on, and which ones to cast aside.
Comparing Different Local Niches – Side by Side
Another use for this strategy is to compare different industries / niches, side by side.
In the screenshot below you'll see an example of this.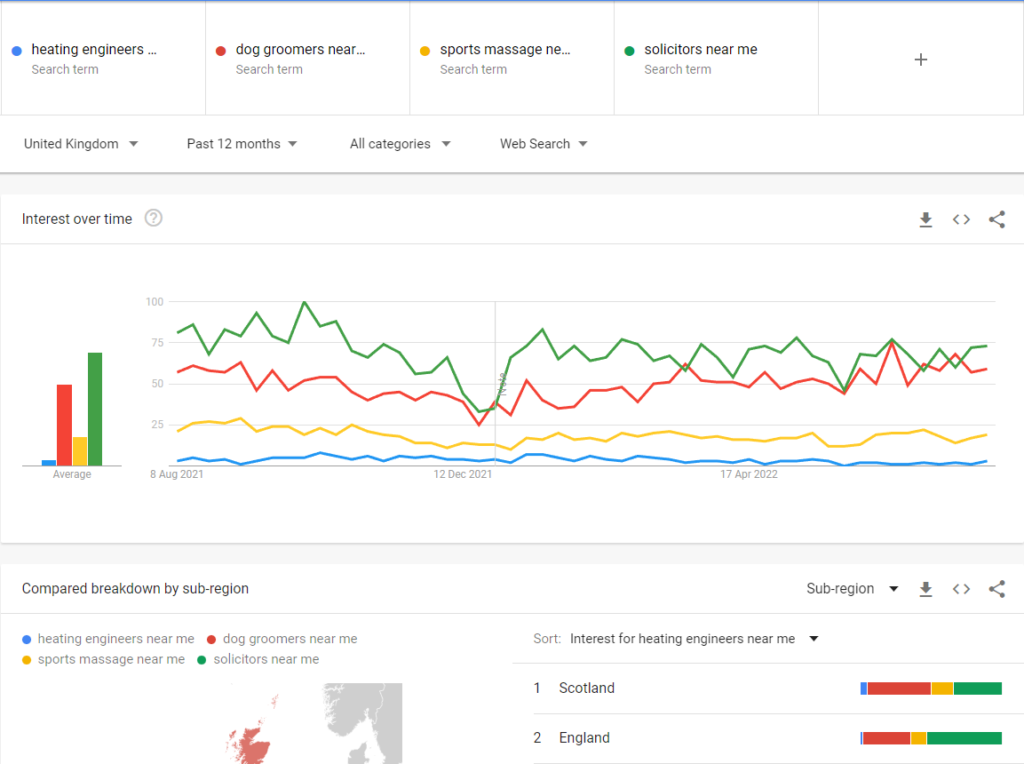 In the above example I compared heating engineers, dog groomers, sports massage, and solicitors.
How to Identify the Difficulty of Keywords When it Comes to Ranking them in Google?
Identifying local keywords that get 'searched the most' is one thing, but identifying which ones are the easiest to rank, is another problem entirely.
Of course, I use my latest software tool 'Keyword Phoenix'.
Keyword Phoenix will give you a clear, precise answer on whether a keyword is 'easy' or 'hard' when it comes to ranking it on Google.
You can learn more about Keyword Phoenix here.
I hope that you got some value from this blog post.
Keep an eye out for future blog posts covering more techniques and strategies.
Thanks for stopping by!
Andy Black