When it comes to ranking your content in Google there are many factors at play – and although there is no "one way" to rank in Google, there is one particular technique that is as old as time, and continues to become more prominent as each year passes.
It's a white hat technique meaning that you won't get penalized by Google when you apply it.
Want to know what it is?
It's semantic optimization. The art of creating relevance within your written content that Google understands.
I created a short 3 minute video for you yesterday that explains this technique, and that also reveals a simple case study – showcasing the power of this strategy when you apply some minor adjustments.
Watch the video below and then continue reading this post.
In the video above it shows how I increased an article (web page) from #22 to #18 in just 4 days of making some 'very' minor adjustments to the article.
This morning the ranking has increased to #16 – and is improving every couple of days.
So that's an increase from #22 to #16 in just a few days after adding just 10-12 LSI words to the article.
This rise in rankings is all down to applying this very simple but highly effective SEO strategy.
If you'd like to get access to my software / SEO feature that allowed me to get these results, then you can do so here…
>> Get Access to My Software / SEO Feature Here
You can use this SEO feature to improve the ranking of ANY existing blog post or web page – or even for any NEW blog post or web page.
Want to See Just How Powerful Semantic Optimization Is?
After creating the video yesterday (that you see above), I optimized it using my TubeSerp software. TubeSerp uses the exact SAME SEO concept for ranking videos.
This means I entered the keyword "How to Rank Blog Posts Higher on Google" into my TubeSerp software and then used the data it returned to write a perfectly optimized title, description and tags.
No other software works like TubeSerp does – It's powerful when used right!
After minutes of uploading the video to YouTube with the optimized listing – It ranked #1 in YouTube and page 1 of Google for my keyword – Within minutes.
See screenshots below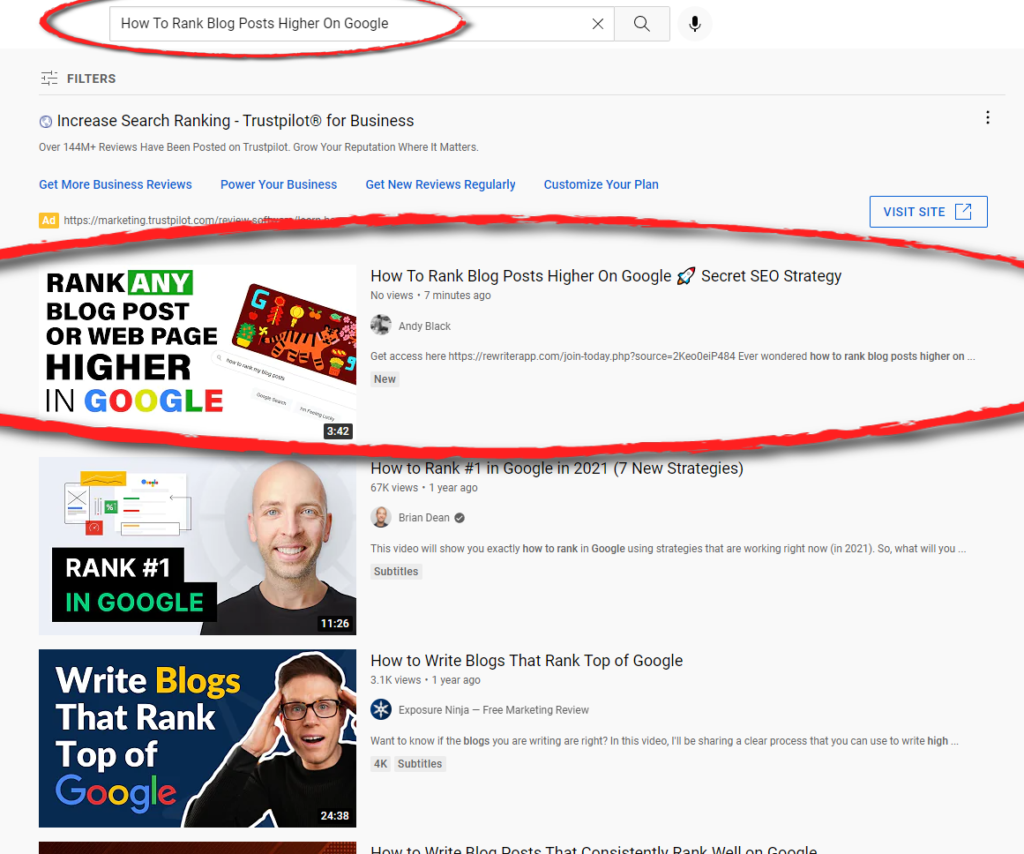 As you can see above, my video ranked straight in at the #1 spot for my target keyword – in YouTube.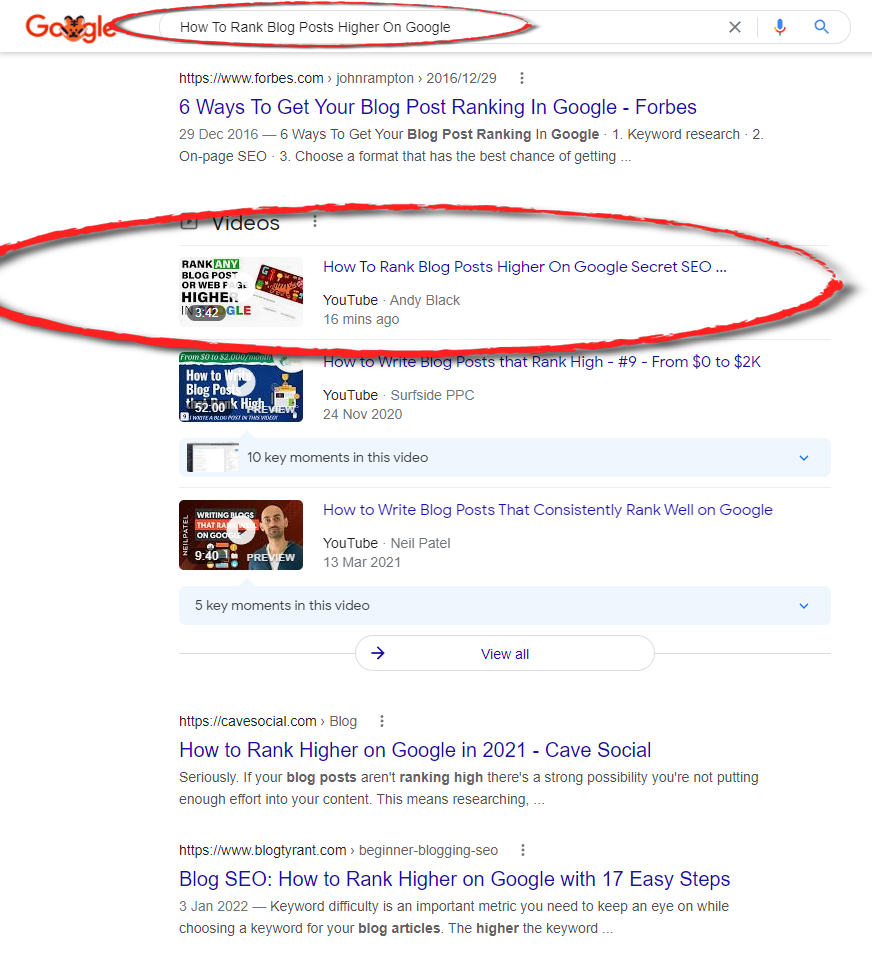 And above you'll see that my video ranked on the 1st page of Google within minutes also.
Both of these searches were in 'Incongnito' mode so no search preferences or cookies were used. They were raw searches.
Of course, these may bounce around a little which can be normal – But it certainly emphasizes the power of semantic optimization and creating relevance within your content, that Google understands.
If you want long-term rankings – You need to be applying this SEO strategy to your website and blog content.
If you would like to get access to my TubeSerp software too, then you can get yourself a discount here.
>> Get Access to My TubeSerp Software Here
I hope you enjoyed this video and blog post, and got something valuable from them.
If you'd like to see more case studies from me, please drop me a comment below.
Oh, and if you'd like to keep updated with my future videos – Please SUBSCRIBE to my YouTube Channel – It's much appreciated.
To your success
Andy Black