Today I'm going to explain the importance of keyword research when it comes to SEO (search engine optimization) and also officially 'announce' my latest software application that will be released real soon.
First of all, let's talk about keywords and why they are so important.
They're important because keywords are what people type into search engines such as Google in order to find specific content, products and services.
Keywords are used with direct intent by your hottest prospects – People who are looking for solutions 'right there and then'.
That's why platforms such as Google and YouTube still provide the hottest, most valuable leads compared to social media sites such as TikTok and Facebook. It's because your prospects are actively 'searching' for something rather than seeing an ad pushed in front of them.
Search engine traffic is by far the hottest traffic you can get, and this is why you should be trying to rank your websites and content as highly as you possibly can.
The First Task Before Creating Website Content
The very first task before creating any kind of website or blog content is to evaluate keywords.
To find keywords and search queries that people are typing into Google, but that aren't also been heavily targeted by your competition.
Believe me – there is an almost limitless number of keywords / search queries that are typed into Google everyday. Many of these keywords have strong competition who are also trying to rank content for those keywords – whilst many other keywords have hardly any competition.
The question is, how do you find the best keywords to target?
Keywords that have weak competition and that you could rank for on Googles 1st page.
Well, I have a very specific method for finding such keywords but it's a long drawn out 'manual' process.
It works. It's effective. And it allows me to find 'easy' keywords that can deliver visitors to my websites… but it's tedious and takes time.
Well, until now at least.
A while back I decided to automate this entire 'keyword research' process, so I sat down at my computer and spent many hours EVERY day building a brand-new software.
This software is now complete and I will be releasing it very soon (this month!).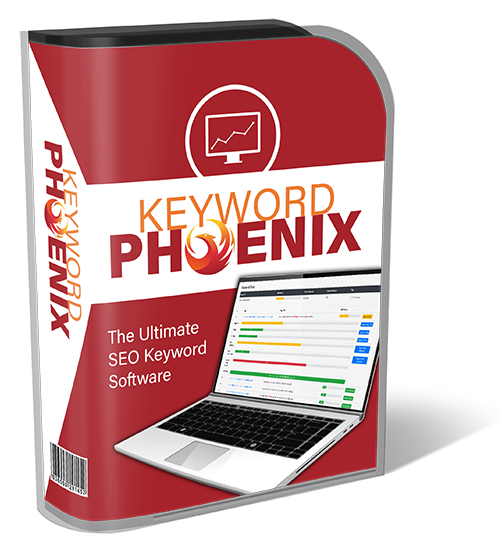 So, I'd like to officially announce my latest 'SEO' software creation – "Keyword Phoenix".
Keyword Phoenix will allow you to quickly analyze the competition for ANY keyword.
It will give you a birds-eye view of the top ranked websites / pages that are already ranking for the keywords that you want to target.
It will identify their strengths and weaknesses, and you'll know EXACTLY what you'll need to do to rank YOUR content, blog post or page on page 1 of Google.
It will reveal HARD keywords, that you should avoid – as well as reveal easy keywords that you can rank for on page 1 with ease.
Remember, the more page 1 rankings you can achieve on Google, the more visitors you'll receive to your website or blog.
More visitors also equates to more leads, sales and income.
I'm thinking of releasing Keyword Phoenix to my customers and subscribers first (you) on either 25th or 26th May. Although I will be giving you a SNEAK PEAK before that date.
If you'd like to get more page 1 Google rankings, and are interested in getting access to my new software, please drop me a comment below.
If I get enough comments and interest I will put together a GREAT deal for you!
To your success!
Andy Black