Today I thought we could take a look at the dreaded "cold calling" sales method that has been used by businesses all over the world since telephones were invented.
And delve into WHY many people shy away from using this method.
So, "cold calling". In a nutshell, picking up the phone and calling businesses or consumers that you have had ZERO prior contact with, and trying to pitch your services or products to them.
Well, the truth is, the majority of people don't like to receive these types of calls because 1) They don't like to be put on the spot. 2) They probably receive LOTS of calls like this as their 'business' number will be accessible across major directories and phone lists. 3) It intrudes their day and they do not like pushy sales people.
But WHY do people hate to utilize this method themselves within their business?
The answer is simple – The FEAR of rejection.
When you pick up the phone and try to cold call another business, and get a loud and clear "NO thanks!" harshly delivered by the recipient, it can knock your confidence, and make you start questioning if your product or service is any good.
When this happens over and over again, it can really cause you issues, creates self-doubt, and often make you want to give up. Cold calling is generally only for the hardened sales type people who are willing to brush off 100 "No's" for every "Yes", or "Maybe" they receive on the other end of the line.
Of course, you can outsource this to a "Call Center", or another company. However, this can be costly and there is no guarantee they will deliver your message and represent your brand the way you would like them to.
So, What is the Alternative?
COLD EMAIL!
That's right. Personalized emails (not generic!) that quickly addresses their issues, and highlights HOW you can help them, and the benefits of you doing so.
For example – Maybe they have ZERO SEO on their website meaning they have poor rankings. Maybe they have ZERO social presence and are NOT utilizing the major social platforms such as Facebook, Twitter or Instagram to create brand-awareness.
Maybe they aren't utilizing VIDEO within their business, or their website isn't mobile-friendly.
Literally ANY issue that you could help them resolve for a FEE.
The Downside to Cold Emailing
The only downside to sending cold emails is JUST LIKE making "cold calls" over the phone, it can take a number of emails before you get a response.
And crafting a cold email means you have to first find the businesses that NEED your services, which in turn means reviewing their websites, viewing source code… and checking other factors – Which of course, can take a lot of time.
The Solution
Use my Web Prospectr v2.0 software and remove all the above headaches and hurdles.
My software will not only find your perfect prospects by analyzing their websites for you, and finding issues that YOU can fix.
It will also CRAFT the perfect PITCH EMAIL for each and every one, that will be 100% tailored to the issues they have, and the services that you offer.
It will even pull in specific data and information for EACH specific business, and include it within the email so that it looks like the email has been hand-typed and was written purely for them. So it is not generic in any way!
After all, the email will be created purely for them. It's just that it will be done automatically by the software, and not hand typed by yourself which would take you a lot of time.
With my software all it takes is just 2-clicks to send each business a fully personalized email pitch. No having to manually type each email.
Just click-click. It doesn't get any easier than this.
DEAL Opened Back Up Until Tomorrow Only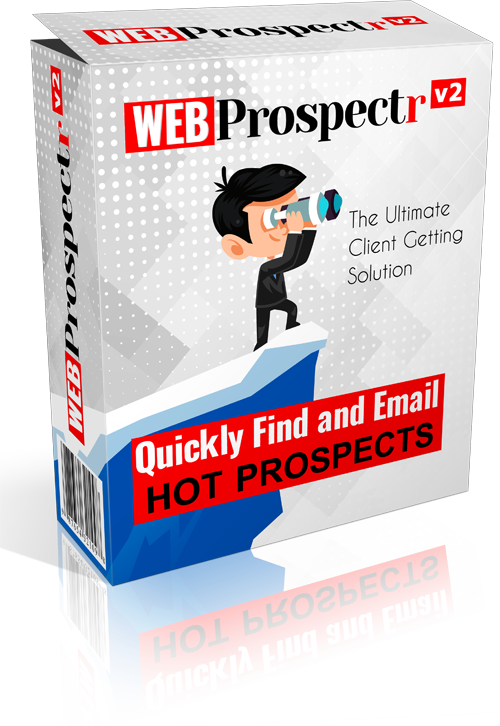 Ok, here's the deal. I have created a new coupon for you that will give you a whopping 52% off the price of my new Web Prospectr v2.0 software.
This will be as cheap as it gets, but tomorrow it will go back up to full price.
If you want to get MORE clients without having to do any cold calling, or having to spend time writing lots of emails… then GRAB my software today before my coupon expires.
>> Get 52% Off My Web Prospectr v2.0 Software HERE
Until next time
Andy Black