One of the most effective strategies for pushing your prospects or clients into the Google 3-Pack on page 1, is to focus on building citations.
What is a Citation?
It is where a businesses name, address, phone number and website is mentioned / published on another website.
A full citation is the name, address and phone number (also referred to as a NAP).
Then there is a partial citation which might be one or more of those elements – such as the business name and a phone number.
How Do Citations Help Rank a Business in Google?
A citation is like a VOTE, similar to how backlinks work. The more sites that a business is cited (mentioned on), the more Google takes notice and rewards them by sending more visitors there way. Of course, it does this by giving better rankings and positioning in their search engine.
However, just like backlinks, not all citation are equal.
A citation on a website that has strong SEO metrics (Domain Authority, Trust Flow etc) will be worth more than a citation on a lower quality site.
A citation on a site that is relevant to the niche of the business will be worth more than a citation on an unrelated website.
What are the Effects of Building Citations?
Here's an example of one business that I pushed up from 6th place in Google Maps, to the #1 spot.
Not only their business listing, but also their website.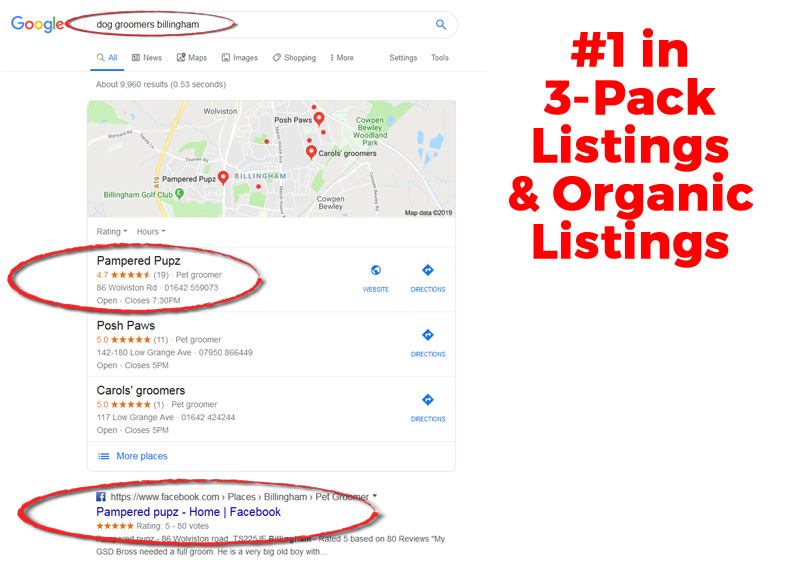 Below is a screenshot taken before any citations were built.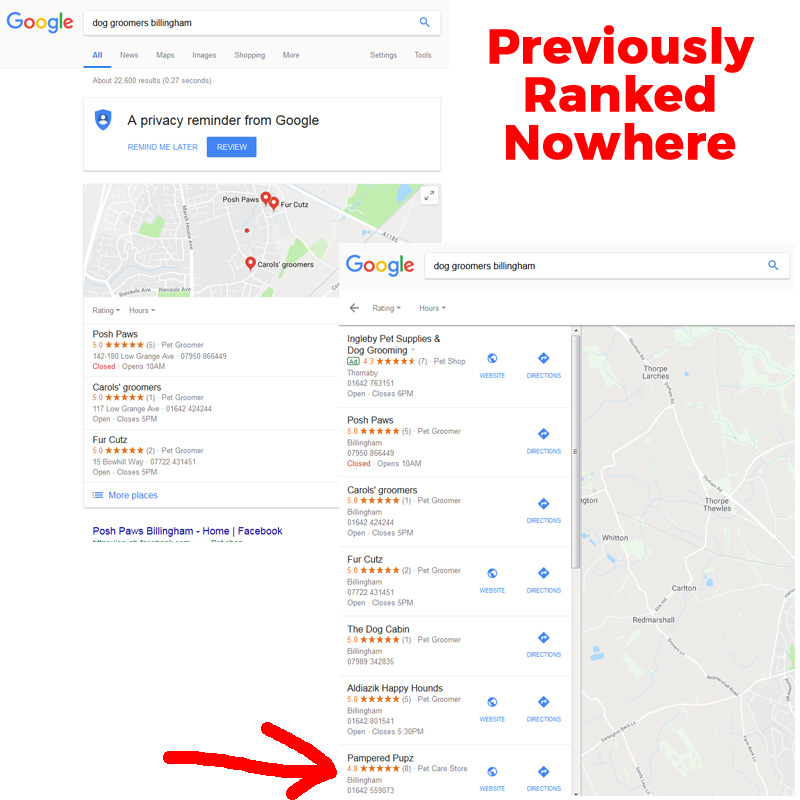 As you can see the business went from 6th place in the MAP listings (completely out of view), to being ranked #1.
The Facebook Page of this business was previously ranked #2 in the organic listings, but also got pushed up to #1.
This is a great result! The business has recently changed address but so far the rankings have stuck.
So, How Do You Build a Citation?
You have to copy the business name, address and phone number, exactly as it appears in their Google My Business listing.
Here is an example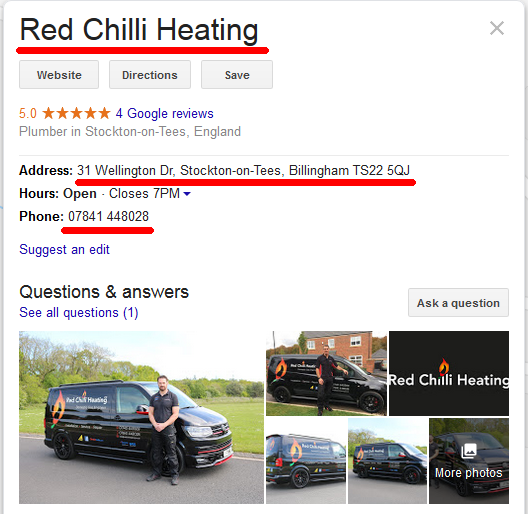 You copy those exact details (NAP – Name, Address and Phone Number) and publish them on other websites. You can add the website URL too!
These are typically directory type sites, or sites that allow businesses to "Add listings", "Submit their URLs" etc.
There are literally endless amounts of sites in every niche and industry that allow you to add listings, citations and backlinks.
The more of these that you publish over a period of time, the higher Google will rank that particular business. Both the Local 3-Pack Listing and the website.
Here is an example of a published citation and what it can look like on another site. Note that this particular citation includes the business name, address, phone number and website URL.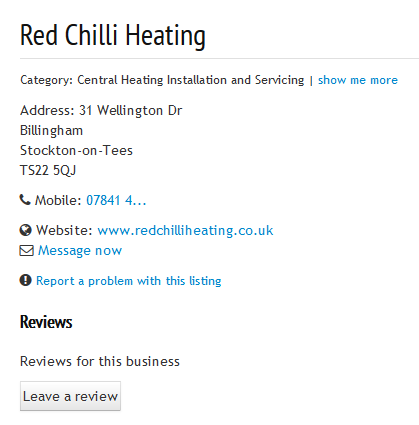 What is a 3-Pack Listing Worth to a Business?
The answer is a LOT! It varies from business to business depnding on the industry and location where they are based.
However, these 3-pack listings can generate a huge number of phone calls and new business so being visible in this 3-pack, above competitors is extremely profitable.
SEO Agencies can demand hundreds or even thousands of dollars per month for a good 3-pack ranking.
Where Do You Find the Best Sites to Get Citations and Backlinks from?
A year ago I used to use my own secret methods for finding the best sites to publish citations and backlinks on.
I decided to build a software tool that will "find these sites" for me. For any niche / industry, and for any location.
Any time I needed them!
However, I didn't want it to only find me sites… I also wanted it to retrieve vital SEO metrics for EACH site returned so I knew which were the BEST, most authoritive sites to use, and which ones to avoid.
This software tool is called Local SEO Pro and it is hands-down the best tool to help you achieve these 3-pack rankings.
No matter what clients or prospects you want to work with, or what niche or industry they are in… this software will help you get the desired results.
I have created a special coupon code that you can use for a limited time only that will reduce the cost of this software for you.
It's only a one-time investment anyway so you only pay once (discounted!) but can use it again and again to find amazing sites for your citations and backlinks, no matter WHO your client is, or where they are located.
Use Coupon code: BLOGPOST to get $30 off today!

You don't need to build lots of citations or links in one go either. You can create between 2-5 per week and see great results… all whilst charging your prospects or clients a substantial, or even monthly fee.
There are a huge number of businesses and prospects in dire need of your services. Go and grab your discounted copy of Local SEO Pro today and start putting it to good use.
To your success!
Andy Black