I'm really excited today to reveal more information about my latest cloud-based software – Keyword Phoenix, and give you a sneak peak inside the app.
If you own any websites or blogs and frequently publish content to the web then my new 'keyword research' software is going to save you a lot of time, energy, and possibly money – whilst at the same time, helping you to achieve more page 1 Google rankings, and attracting more organic visitors to your websites.
Keyword Phoenix allows you to quickly identify how easy or difficult ANY keyword would be to rank on the first page of Google.
It does this by providing you with a bird-eye view of the 'current competition', and reveals how well they are optimized for 'the keyword'.
I'm going to be releasing 'Keyword Phoenix' for the first time to my subscribers and customers this Wednesday (25th May) @ 10am EST, so keep an eye out for my email as i'll be running a limited-time 'special offer' for this.
But the point of todays blog post is to give you a sneak peak inside my software and illustrate how you can analyse keywords and get a solid conclusion for any keyword with just a few clicks.
(Please note, this is a sneak peak s0 I'll only be revealing part of this software today)
Let's Get Started
When you analyze a keywords inside Keyword Phoenix the software will provide you with an "SEO Score", and the number of search results found in Google. Along with some other useful data.
You can quickly sort and filter these results to identify those keywords that have weaker competition.
Let's Look at a Real Example and Do Some Research
For this example I'm going to use the 'rock painting' niche.
Keyword Phoenix can take a 'seed keyword' and find keywords for you that people actively type into Google. However, for todays blog post I have imported some keywords (CSV file), which also included 'search volume' data – using the 'Import Keywords Feature'.
I went through this list and analyzed a number of keywords by simply clicking on the 'Analyze Keyword' buttons.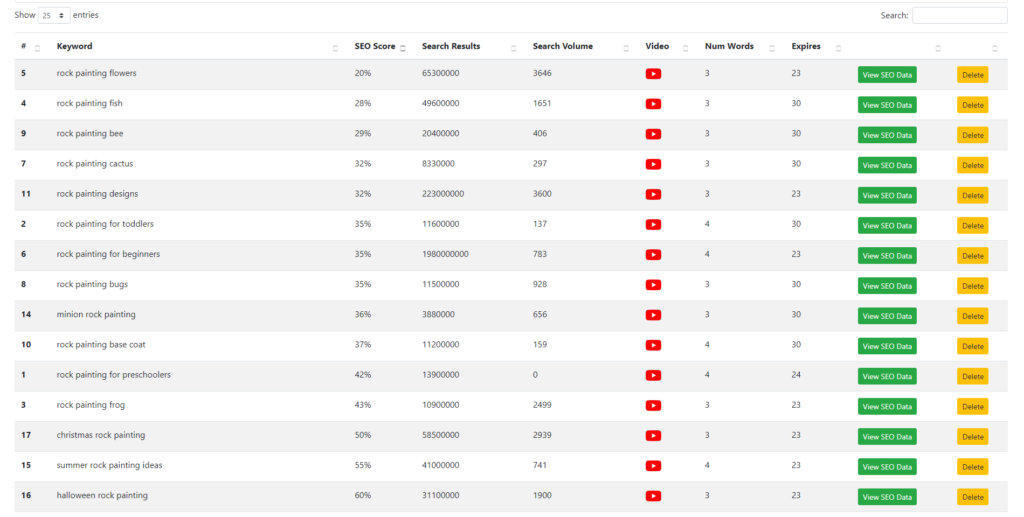 I then sorted the results to show the keywords with the lowest 'SEO Scores' at the top.
The SEO score indicates how well the first page of results are optimized for the keyword. The software looks at the page title, header tags, alt image tags, title attributes and the actual 'body' content that the viewer reads.
A high SEO score indicates that the competition is strong, and a low SEO score indicates weak competition / poor optimization.
The next column shows 'Search Results'. The higher this number, the 'more' competition there is (although that doesn't necessarily mean strong competition).
What I'm going to do now is delve deeper into TWO different keywords. The first keyword will be more difficult as it has a higher SEO score and more search results. The second keyword will have weaker competition, and therefore would be easier to rank, in comparison.
A Closer Look at the HARDER Keyword
This keyword is: rock painting ideas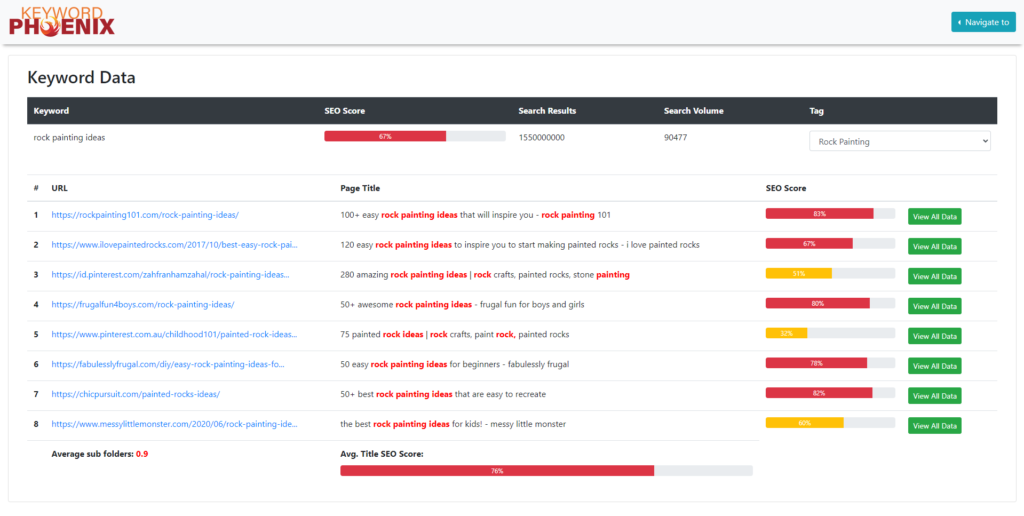 In the above screenshot you can see the top ranked results including the page titles and the individual 'SEO Score' for each of the results.
You'll notice that any part of the keyword 'rock painting ideas' that is found in the page titles, is highlighted in red. This helps you to visually see how well they have optimized / targeted the keyword.
You'll also notice that most of the SEO scores for these page 1 results are high (Red and Yellow – Green would indicate weak optimization).
What we can do now is dig deeper into ANY of these results to take a closer look.
Let's analyze the #1 result by clicking on the 'View All Data' on the right hand side.

With a single click we can now see that this #1 ranked result for the keyword 'rock painting ideas' is highly optimized for the keyword through the entire page. All elements are highly optimized (except for the 'title attributes' within the html).
We can also see that the page has 1,033 words of content and that content is highly optimized too.
I clicked on the 'Retrieve MOZ Data' button to retrieve the metrics. As you can see the domain authority is 36 and the website has 422 equity backlinks.
To outrank this #1 spot we would likely need a website themed around 'rock painting', with better MOZ metrics, and more content that 1,033 words.
Another great feature is the ability to visually see these 'optimized' onpage elements by clicking ANY of the blue 'Toggle' buttons on the right hand side.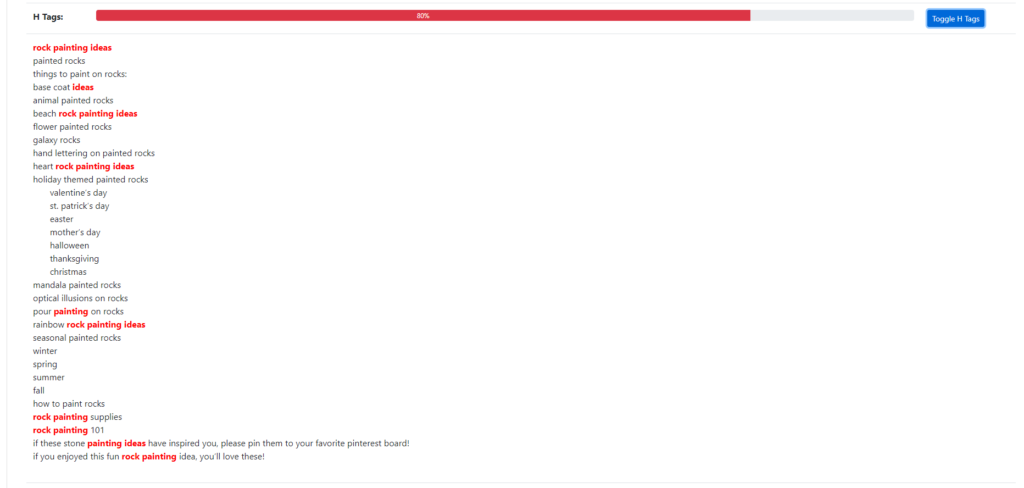 In the screenshot above you can see ALL the header tags on that ranked page… with the optimized parts highlighted in red.
As you can see, looking at these header tags the ranked page is heavily themed around 'rock painting ideas'.
A Closer Look at the Easier Keyword
This keyword is: minion rock painting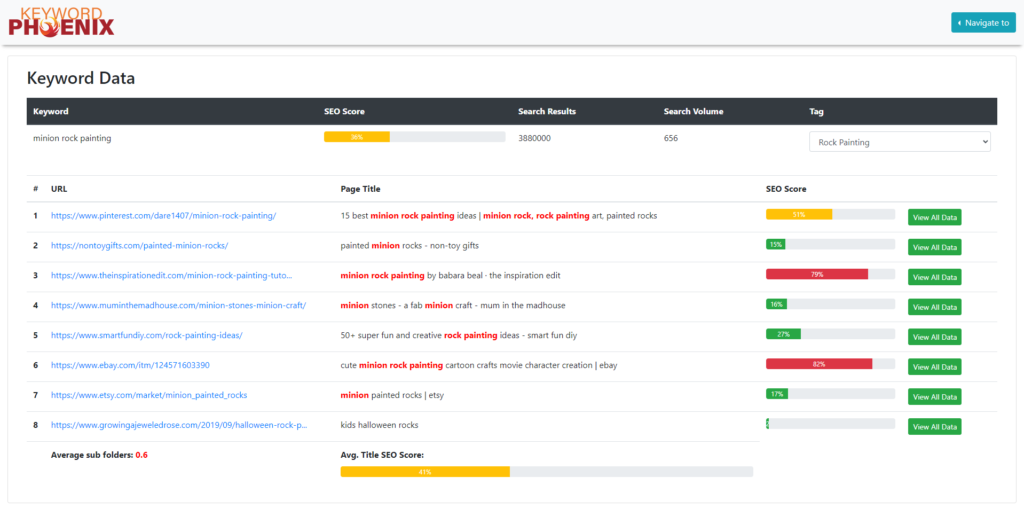 Above you'll see the top ranked results for this keyword. Even though 2-3 of the those results are optimized well, most are poorly optimized with "low" SEO scores. Notice that the bottom result doesn't even have any part of the keyword within the page title.
The #2 ranked result shows a LOW SEO score so let's look closer at that page.

All you can see in the screenshot above, most of the page has weak optimization for the keyword. The website has good domain authority though with a decent number of backlinks, but if we created BETTER content with strong optimization, we should be able to outrank this page / result.
Let's take a closer look at the last result on page 1.

As you can see this page has ZERO optimization except for 'very slightly' optimized header tags. It also has very little textual content on the page!
We can take a look at the header tags to see what this 'very slight' optimization looks like – By clicking the blue 'Toggle H Tags' button.

As you can see, TWO of the headings include the words 'rock painting' but there is NO mention of the word 'minion'.
This page should be very easy to outrank!
That's all for now! I hope that this sneak peak gives you an insight into just how useful Keyword Phoenix is for finding 'easy to rank' keywords, and to help you to avoid 'hard keywords' that will result in lost time and effort – with few organic visitors.
Please note: Keyword Phoenix is an 'analysis' software. It doesn't retrieve search volumes. However, you can import CSV files that contain keywords and search volumes.
Keyword Phoenix will also take your 'seed' / broad keyword and find you related keywords that people actually search for.
I have a number of new features and tweaks that I'll be adding to the software soon – So this app is only going to get better, and of course, I'll take user feedback and feature suggestions onboard.
I'd Love Your Initial Feedback
I'd love to know your thoughts about the software and what I have shared with you today.
Drop any questions below and I'll do my best to answer them.
Alternatively, if you see the value of this and are looking forward to getting your hands on this software this Wednesday, drop a comment below and let me know.
It's nearly time! 🙂
To your success
Andy Black